Lessons to Keep in Mind for Your Climb up Granite
Over the last two decades, I have approached, attempted, or summitted Granite Peak a handful of times.  Each time, I learned important lessons on what to do, what to expect, and where to go.  When you're planning your trip on how to climb Granite, there are few resources out there that are really good guides up the mountain.  Hopefully this article can help you better plan for your ascent.
Let's begin about 20 years ago when I was but a baby-faced 18 year old.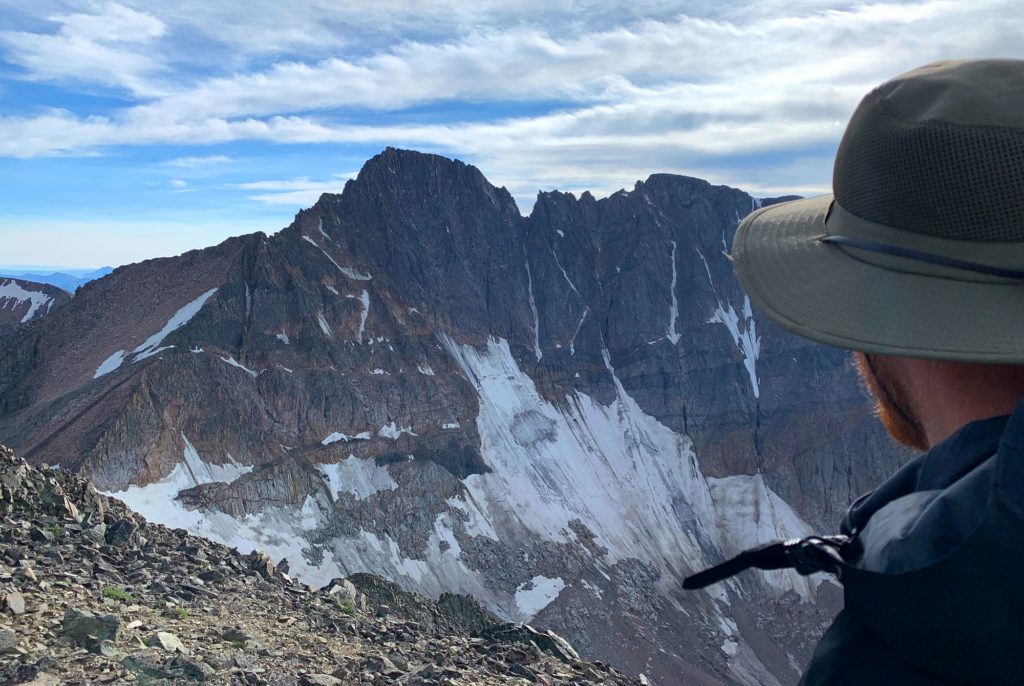 Granite Peak – The First Summit Attempt
Clay, Pat, Zach, and I were sitting around in Clay's basement one evening planning for the weekend's adventures.  Someone piped up saying that we should go climb Granite Peak.  We quickly discarded our Taco John's wrappers and ran about getting our gear in order.  Young, inexperienced, and poor, we all had adequate gear that was far too heavy.  A couple hours later, with 60 pound packs, we were ready for the mountain.
Setting out early, we quickly arrived at Mystic Lake and turned up the Phantom Creek Trail.  It was here that we realized the switchbacks, all 30 of them, were absolutely terrible when you're wearing a large pack.  Young and strong, we pressed on.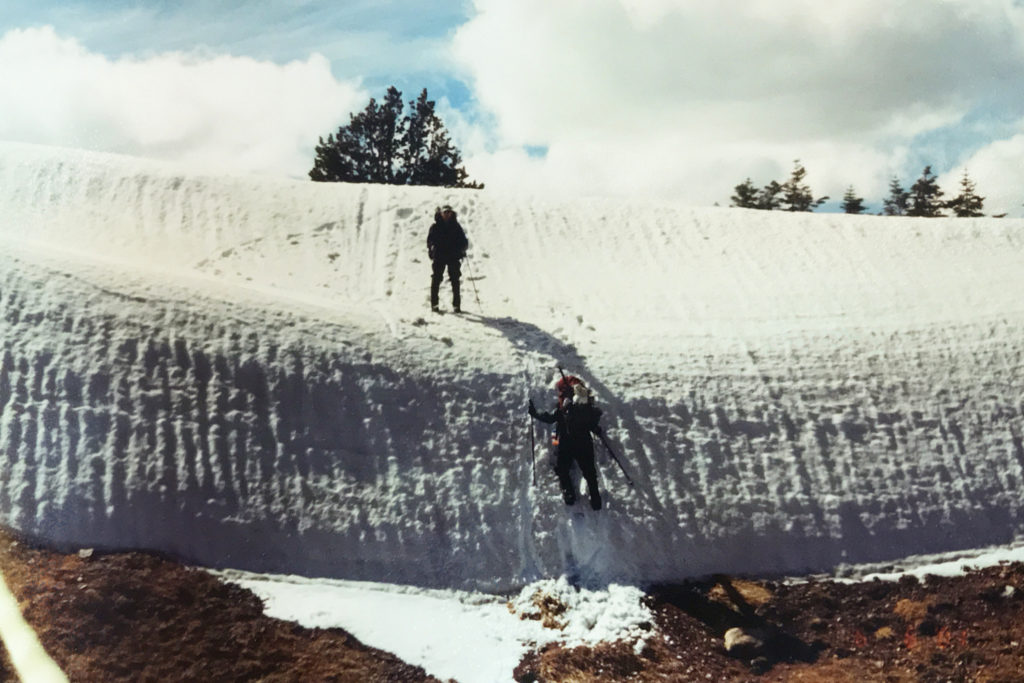 Our first camp was on top of Froze-to-Death Plateau, before we were high enough to be in the snow.  It was cold, it was windy, and we still had 5 or 6 miles to traverse before we arrived at the saddle.  It was then that I realized that I had no sunscreen and no sunglasses in my possession.
The next day, with the sun shining brightly from above, we walked across the plateau.  As the sun beat down, it bounced off the snow, and back onto my face and eyes.  At the moment I didn't realize it, but I was cooking my skin and retinas.
Reaching the saddle Pat mentioned that he wasn't feeling up to the climb, and I was happy he said something.  My eyes and face hurt, and it was a lot harder approach than I thought.  Together we slid down the snowfield to Avalanche Lake while Zach and Clay camped at the saddle.
That night's sleep was the worst.  Every movement felt like needles poking my face skin.  My eyes hurt, and the hurt got worse and worse over night.  In the morning both Pat and I realized we were burnt to a crisp.  It hurt to keep my eyes closed, but hurt worse to have them open.  We packed camp as quickly as possible, and I hiked the 10 miles to the trailhead with my eyes closed; opening them only to scan the path ahead of me, and then close them to take a few steps before another quick scan.
Many hours later and a trip to the ER, I learned you can sunburn your retinas.  Over the counter eye drops fixed that issue, but the blistered skin on my face would take weeks to fully heal.
Lesson Number One: bring adequate sun protection!  Check the video for how I now embrace my gingerness.
Granite Peak – Second Summit Attempt
A few years later, a group of us got together again to attempt a summit of the highest peak in Montana.  This time we were a bit more prepared: sunglasses on and sunscreen lathered onto all exposed skin.
It was the middle of June, and while the weather in Billings was quite warm, it's a whole other story when you get up high in the mountains.  As the air moves through the wilderness, it is compressed on the sides of the mountains.  This compressions means sudden storms can pop up and in the early season, it means that snowstorms can cause white-out situations when it's still sunny and clear down in the valley.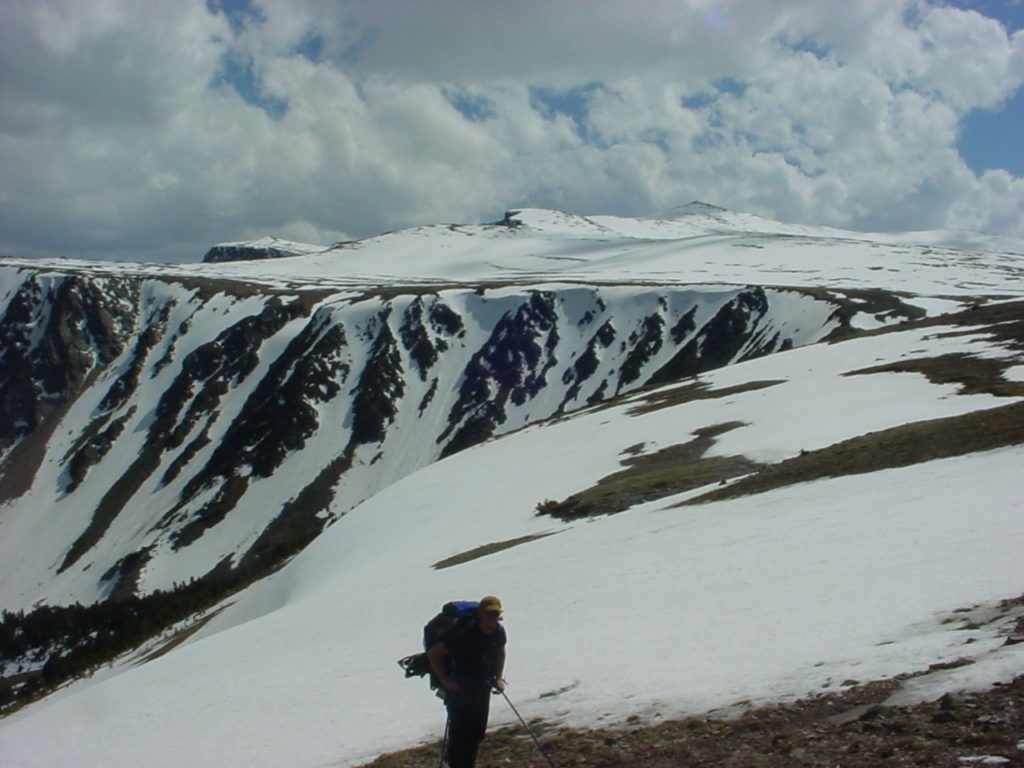 For the second summit attempt we decided to head up Phantom Creek Trail from the East Rosebud side.  It's a longer approach to Froze-to-Death Plateau, but you get to avoid the switchbacks from Hell in a slower and easier ascent.  The longer approach, however, also meant that we camped an extra night on the way to the plateau.
The next day, we crested the ridge above tree-line.  We learned that even though the hike was easier, it was still going to take a night of camping on the plateau before we even reached the saddle.  Setting camp on the plateau generally means putting up with strong winds for the evening.  Those strong winds often blow in more than expected.
The next day we awoke to overcast skies that did not clear quickly.  In fact, it went the opposite and a snow storm blew in obscuring our view of the plateau (and the direction we had to travel).  A quick ascent of Froze-to-Death Mountain and we headed down into the West Rosebud Valley to spend a day playing at Mystic Lake.
Lesson Number Two: Early season is no good if you're on a deadline or want to summit without storms.
Granite Peak – First Realized Summit
At this point I had learned plenty of what not to do when approaching Granite Peak, but I still had not learned anything about the actual climb.  It was a mystery to me what happens after you cross the saddle.  It was also at this point that Dave Swanson, a friend I met while living in Texas and a high pointer, asked if I would be willing to join him as he climbed the mountain.  In other words, show him how to do it.
Of course I was ready to get on top, so we decided that sometime in August would be the best time to climb to avoid snow on the ground and afternoon thunderstorms.  We debated the approach route, and decided to try the Huckleberry Creek Drainage.  It's nearly as long, but most of the hiking is done at lower elevation with a big push the last couple of miles before Avalanche Lake.
Approaching through Huckleberry Creek is just fine… until that last mile and a half that lies between Avalanche Lake and the saddle.  It's steep, but there's a clear path until you're approaching Avalanche.  Then, things get a bit western.
Base camping at Avalanche, we awoke early to get to the summit by early afternoon.  We started hiking in the twilight of the morning making our way between gargantuan boulders the size of houses.  As we progressed on our hike the boulders got smaller and were merely bus sized, then car sized, then down to basketball sized.  At that point we headed uphill.  For more than a half a mile we scrambled up a scree field that had boulders that moved beneath our feet.  We spread out and pressed on.
Far behind schedule we hit the saddle.  A short rest later and we started our way through the boulder field that comprised over half the climb and ended at the snow bridge.
This particular year it was either warmer or dryer, and the snow bridge was nothing more than a dirt bridge.  Still steep we roped up and crossed over quickly.  From there the rest of the climb is a bit hazy in details (it was 13 years ago after all).  Fortunately Dave had printed out pictures of a climbing guide he found online, and we were able to scramble our way through chimneys, around boulders, across ledges, and only roped up one more time on a fairly exposed traverse over the top of a column.
Our summit was around 3:30pm on a fortunately clear sky with hardly any wispy clouds floating around.  After a rest and admiring the view it was a long ways back down to Avalanche Lake and back through the boulder fields of Hell.
Lesson Number Three: approach through Huckleberry Creek sucks.
Granite Peak – Second Realized Summit
This brings us to the current climb in August of 2020.  After more than a decade since the last climb, I was itching to get back up the mountain.  As my business transitions, I long to be known more for outdoor adventure writing and helping people discover the world around them.  So when my friend Mark mentioned he was planning a climb with his friend Sheldon for this year, I asked to join.
If you have been following along, you know that I trained all summer to ensure my physical stamina was up to the task.  My training also encouraged Mark and Sheldon to make sure they were training and in shape as well.  Along the way, Jeffie asked to join too, so we ended up with a group of four.
Meeting before our trip we decided to approach over the top of the plateau, and descend through Huckleberry Creek.  Part of the reasoning was so that we could fish the lakes on the way down to break up the monotony of hiking; plus fishing is rad.
Conditioning my body for the hike definitely helped as we approached the mountain.  We made short work of the hike to Mystic, quickly got through the switchbacks from Hell (they weren't nearly as bad this time with a reasonable pack and stronger legs), and met up with a couple of guys from Minnesota at the start of the plateau.
We traversed the gradual incline from 10,000 feet to 12,000 feet falling just short of my arbitrary goal of an 8 hour hike to our base camp on Tempest Mountain (it was just 8 hours and 30 minutes).
Setting up camp, we had dinner, and then watched the goats chase after our urine (it's an easy form of salt for them). Jeffie and I bagged a summit of Tempest Mountain, and then we sat in camp for a bit.
There's not a lot to do when it's windblown and rocky, so everyone turned in early.  As in at 7:30pm.  We were tired, and we all knew that we had a 5am wake up call.
After our breakfast we packed up camp in the dark and headed out much later than I expected.  It's actually quite the descent from Tempest down to the saddle; you lose 600 feet over the course of half a mile.  Upon reaching the saddle, it was time to drop our big packs and don our summit packs.
We noted the water flowing from a snowfield as our refill station on our way to the snow bridge.  Upon reaching the bridge, we harnessed up, and I led the way across the steep and slick start to the climb.  It was here that things got a whole lot mentally harder than I remember from the last time.
After the snow bridge, you immediately climb up a chimney filled with dirt and rocks that like to crumble as you climb on them.  While I had the pictures from an online guide on my phone, it was still much harder to pick the route than I remember.
Four members on the team slow things down considerably.  Not that anyone moved especially slow, but just the logistics of hooking into the rope, climbing, bringing the next guy up, tossing the rope, etc. etc. and so on and so forth, it takes a while.
Nerves got the best of most of us (except Jeffie, his were steel).  Instead of just one time roping up on the way to the top, we roped in 4 different times.  Even the spaces between rope ups seemed steeper, crumblier, and the drop offs more intense.  While it isn't necessarily a physically demanding climb, there are really only a couple of places you actually have to pull yourself up, it's mentally taxing.
There was no turning back, so it was a matter of putting one foot in front of the other and setting tiny goals.  Get over that boulder.  Crest that ridge.  Find that cairn.  Touch that anchor.  Slowly and steadily we made our way up and eventually hit the summit around 11:30am – four hours after leaving our packs at the saddle.
Much rejoicing was done upon the summit.  Everyone was proud of their achievement, and everyone was happy to have it over… almost.  We still had to make our way back down the mountain.  Fortunately we knew exactly where to go, where the anchors were, and we could rappel down through the hardest parts.
Three hours later and we were across the snow bridge and officially off the mountain.  Half an hour after that and we were refilling our water bottles from a melting snow field.  Thirty minutes later and we were putting our gear into our backpacks and getting ready to head to Avalanche Lake (or Princess if we had moved a little faster).
Descending this route was just as terrible as I remembered it: but it was a lot longer than I remembered it.  It took all afternoon just to get to the campsite at Avalanche Lake.  Fortunately we all made it there safely.
The next day, our descent was better.  The boulders behind us it was mostly just a steep path along pristine mountain lakes fed by exquisite waterfalls.  The only mishap was with a couple hundred pound boulder that tried to crunch my leg.  When I stepped on it, it rolled beneath me.  Unable to move quickly enough, it rolled onto my left leg hard enough to knock me down and make me think I was damaged.  I shook it off and we kept going fishing each lake as we passed by.
Lesson Number Four: Physical preparation is one thing, mental is another.  Avalanche Lake boulders still suck.
What You Should Know When you Go to Climb Granite Peak
There are plenty of people that summit without climbing gear.  Even the day we went up there were several people that passed us as they climbed quickly without ropes.  I don't recommend it, especially when it's time to come down.  Hauling a rope up there is cumbersome, but the safety is worth it.
If you want to see Huckleberry Creek Drainage, do it on a separate trip and come from Mystic Lake and end at Avalanche Lake.  Avalanche to the saddle is glacial moraine and hellish.  Princess Lake, however, is delightful and worth the trip on its own.
There will be goats.
Bring pictures that show the route.  We would have been lost without the guide from this site.  The pictures are also uploaded to Summitpost.
You will be nervous.  Push through.  Set small goals so you can accomplish your climb.  Go slow.  Be safe.
I didn't cook any meals.  The weather was warm enough that I didn't need the heat to keep me warm.  It shaved pounds off my pack weight and allowed me to spend less time waiting for water to boil and enjoy the area more.
August is better than June in terms of weather.
The mountain is bigger than it looks.
There is cell service at the top, but it's spotty.  You can get a message or a call out if you want to.
Being prepared is how you make it through the trip without incident.  It's physically demanding to hike in 12 miles and then climb a mountain.  It's mentally demanding to walk just a few feet away from a steep drop off that can roll you down thousands of feet.  Trust your abilities and know your limits.
Most importantly, take a lot of pictures as you get out, get lost, and discover your world.